Expand and open up your home and let the outdoors in with Crimsafe Bi-Fold Security Screen Doors. Feel security and luxury at the same time with Australia's toughest security screens on the market.
Adaptable Security Doors
A multi-paneled hinged door design means that you can secure the widest of indoor and outdoor spaces. Fold the panels away to expand your living space and entertain with ease. Or feel the natural breeze when they're closed while keeping out insects and intruders.
Bi-Fold security screens work with nearly any existing door.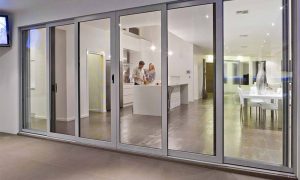 A Practical Solution to Indoor/Outdoor Living
Our bi-fold security doors make wise and practical use of space, being ideal for even the most difficult openings. These adaptable doors can either be folded back completely to open up an area, or just one panel can be opened for easy entry and exit. The typical application of Crimsafe bi-fold doors mirrors your existing bi-fold panels.
Not only are they highly functional, our bi-fold security doors are incredibly stylish and modern, with the added bonus being available in a wide range of colours and finishes.
Talk to us today and discover how affordable it is to protect your home with security screens.

Ask one of our friendly staff about using Humm to order now and pay later!
Get The Best Service & Best Security with Davcon
We believe that only the toughest security screens available are right for your family. That's why at Davcon, unlike our competitors, we only manufacture and install Crimsafe Security Screens.
We've been manufacturers and installers of only Crimsafe security products for over 20 years and have installed Crimsafe Security Screens in over 20,000 homes. So you can be sure that everyone on the Davcon team knows the product – inside and out.
Styles Gallery