Crimsafe security doors are the toughest on the Australian market and the very best at keeping your home and family safe. At Davcon, we're committed to your security and feeling safe in your own home, that's why we only manufacture and install Crimsafe security screens.
Protect your home and family with incredible strength and high-performance security for your peace of mind.
Australia's Highest Quality Security Screens
Unlike other security doors, where the mesh is glued or embedded into the frame, the Tensile Tuff® Security mesh on Crimsafe security screen doors are secured into the frame and clamped firmly down using the patented Screw-Clamp™ method.
This makes our security doors tough, durable and almost impossible to infiltrate or kick in. See Crimsafe's bash test video here. Crimsafe security screen doors, unlike the standard single locks used on most other security doors are supplied and installed with Austral triple locks.
At Davcon, we believe in offering only the best available lock, brand best suited to withstand the superior quality of your Crimsafe product. Austral locks have a 'parrot beak' locking mechanism, hooking directly into your door frame, making it virtually impossible to jimmy open.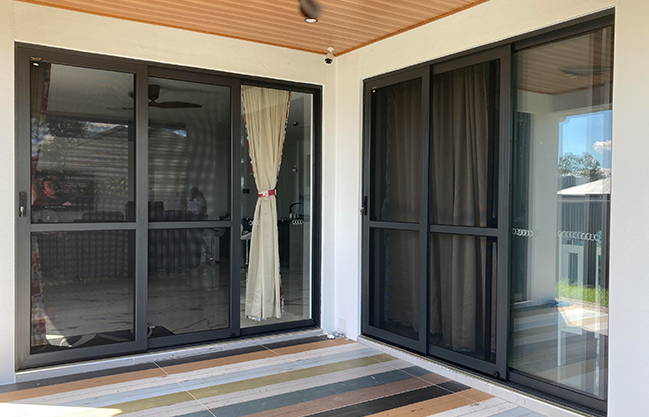 Customise Your Crimsafe Security Doors
All Davcon security screen products are custom manufactured and installed, you can rest assured knowing your door is specifically fitted to the required width and length of your frames, meaning your Crimsafe security screen doors will always fit, offering maximum protection.
Keep Yourself Safe From All Australian Weather
Crimsafe security doors are ideal for Australian summers, allowing for a healthy airflow, maximum natural light and uninterrupted views, while keeping out mosquitoes and reducing uninvited pests. All of our security doors block out 30% of harmful UV rays, ensuring an even safer indoor environment for you and a longer life for your interior furnishings.
At Davcon, We Only Work With the Best
We believe in only the best security options are right for your family. That's why at Davcon, unlike our competitors, we only install Crimsafe security screens. Crimsafe is 100% of our business, and we've been exclusive Crimsafe manufacturers and installers for over 20 years. So you can be sure that everyone on the Davcon team knows the product – inside and out.
Crimsafe Doors Gallery