Are you thinking about having security doors installed but not sure where to start? Maybe you are unsure which types are available, what will best suit your home or how security screens can change your home? Perhaps you're concerned about the longevity of your security doors, if they'll rust and if they have appropriate warranties.
We know (better than most people), that getting security doors installed is a big project and can be a big investment. So we want to help you make the right decision for your home and family. That's why we have put together some tips and things to consider when deciding which security door to choose for your home.
How Security Screens Can Impact Your Home
Before we get too technical, let's start with how security screens can change or impact your home from a value and aesthetic point of view.
Maintaining or Changing the Area
When installing Crimsafe security screens, you can choose a door and colour that will have the least impact on your home design. In the case of front doors or windows, this is likely going to be the most sensible option.
But there is value in using Crimsafe security screens to open up living spaces to include the outdoors or making unused outdoor areas more liveable.
Crimsafe patio enclosures and bifold doors can change how you use your home for living and entertaining, giving you the ability to make practical use of the space, ideal for the most difficult openings!
By adding sleek security screens that seamlessly match your home or expand liveable spaces you can add a lot of value to your home.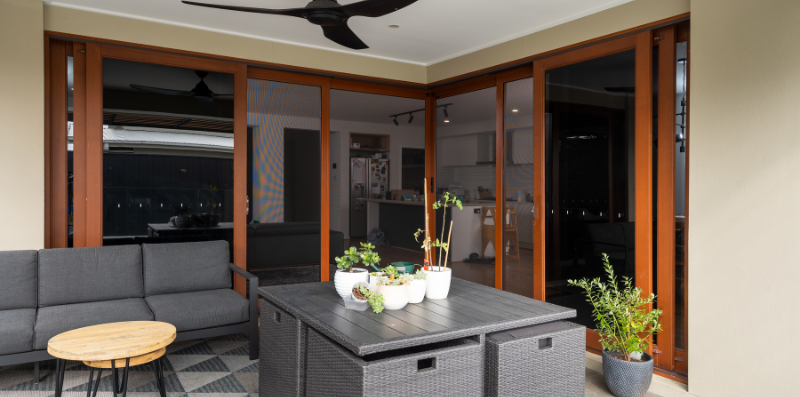 Matching Your Doors
A common question that we're asked is if Crimsafe security screens are going to fit their homes. No matter how big or small your entrance is, Davcon can accommodate.
Crimsafe security screens are completely customisable and made to order every single time. This means that extra large front doors can be secured, louvre windows can be secured, even french, pivot and bi fold doors can be secured!
And because Davcon offers Crimsafe's standard colour range PLUS the complete Dulux powder coating range you can find the right colour to match or update your home.
Varieties of Davcon Crimsafe security doors
There are three base Crimsafe styles to choose from; hinged, sliding and bi-fold doors. These ranges can all be completely customised to fit your areas, either securing your existing entries or creating completely new liveable spaces in your home.
Technical Aspects of Choosing Crimsafe Security Screens
Once you've decided how you want security screens to impact the design, style and livability of your home, it's time to think a bit more technically about what you're going to get installed.
How Crimsafe Measures Up
Crimsafe security screens aren't always going to be the cheapest screens on the market. But they do provide a lot more value than many competitors on the market.
Crimsafe uses 306 grade stainless steel which has a lifespan of 65 years. This means that Crimsafe's mesh will not rust.
Crimsafe uses thicker mesh and a screw-clamp system that is proven to be significantly stronger and harder to break into than our competitors.
Crimsafe's unique Screw-Clamp technology has special teeth precisely matching the profile of the mesh, which locks the mesh deep into the frame. This feature spreads the impact throughout the frame to withstand powerful and sustained attacks.
Crimsafe improves your energy efficiency. Up to 40% of household heat gain and loss occurs through glass windows and doors. Installing Crimsafe over glass windows and doors improves the cooling and heat retention energy efficiency of a building. It's verified by the Window Energy Rating Scheme (WERS).
Our unique Safe-S-Cape® is a keyless exit system that is easy to use from the inside, but still provides complete security and protection from the outside.
Crimsafe offers 4 levels of protection. Each Crimsafe security screen range has been specifically developed for the needs of our customers. Learn more about and compare Crimsafe Regular, Classic, Ultimate and iQ
.
Crimsafe Warranties
All Crimsafe security screens are covered by a 10-year warranty as standard. You also have the option to extend their warranty up to 12-years for Regular and Classic ranges or up to 15-years for Ultimate and iQ.
At Davcon, we also offer a two year warranty on all moving parts including locks.
We know that we've given you a lot of information. But when it comes to installing security screens to protect your home and family you want all the necessary information. So we've provided as much as we can all in one place.