Brisbane is considered the safest major city on the east coast of Australia. In comparison to Melbourne and Sydney, Brisbane has had consistently lower crime rates. However, because Brisbane is becoming more populated with a growth rate of 2.1%. And with opportunities for growth to continue, the crime rate in Brisbane is increasing at a faster rate than Sydney, which is a cause for concern.
In 2015 a survey of DUMA (Drug Use Monitoring in Australia) detainees was conducted to help police learn more about why property crime is happening in the first place.
Participants were asked the reasons why property crimes may be declining:
Improved security – 31%
Changes to policing – 20%
Increased affluence – 11%
Increased imprisonment – 10%
Changes in drug use – 7%
Changes in the market for stolen goods – 4%
They were also asked the reasons particular properties were targeted. The reasons fell heavily into opportunistic attacks rather than a planned effort against a particular property.
Houses that appeared vacant or unoccupied
Doors and window left open
Rubbish bins left outside on the curb
Detectable spare keys
No lights turned on inside the house in the evening
An overflowing mailbox
Houses that had an expensive car in the driveway
Any valuable items on display or in view either in the yard on from a door or window
The above information shows that break ins, or unlawful entry is often a crime of opportunity and there are a lot of easy things that you can do to protect yourself and your property.
Brisbane Crime Rates By Suburb
There are a number of areas in Brisbane that have higher break in rates than others. The top break-in hotspots for Brisbane are:
Inala
Forest Lake
Deception Bay
Woodridge
Runcorn
Southport
Sunnybank
Sunnybank Hills
Surfers Paradise
Eagleby
If you're living in or around these areas, then your home could be at greater risk of break-ins theft or other forms of property damage. This not only means you may not only pay higher premiums for your home insurance, but your family could be in danger.
On the other hand, the top five safest suburbs in Brisbane are:
Dayboro
The Gap
Cleveland
Ferny Grove
Redland Bay
You deserve to feel safe in your home at all times.
Talk to us today about protecting your property with Crimsafe
Brisbane Crime Rates
In 2020, the QLD Government reported over 17,739 unlawful entry offences in the Greater Brisbane Region. And over 72,336 offences against property including damage and other theft offences.
What does this mean for your property?
Crime rates differ across the city with some suburbs having a higher crime rates than others it's important to do your research to protect you home.
A recent study by RiskWise showed that housing in high-crime areas such as Runcorn, Sunnybank and Woodridge are outperforming the Brisbane market. "Take Inala as an example. The suburb recorded one of the highest offence rates across Brisbane, yet it delivered strong median price growth of 26.2 percent, which is above the local benchmark," The RiskWise CEO said.
The reasons for the growth in these areas comes largely down to affordability, accessibility and attractive local features, which seem to significantly outweigh the negatives of high crime. Inner suburb pricing is being increasingly driven up so first-home buyers have less opportunity to buy in these areas.
This means that more younger families will be buying in areas with a high-crime rate. If you already own in these areas, the benefits of getting security screens are two-fold.
Security screens aren't just a solution to helping you feel more safe at home, but a long-term investment that can add tons of value to your property as well. By installing Crimsafe, the highest quality security screens on the market, not only will you be giving yourself peace of mind, but you'll be boosting the resale potential of your property.
Protecting Your Home & Family
There are a lot of ways that you can protect your home from break-ins, but installing a high-value security screen is one of the easiest ways to get peace of mind that you and your family are safe.
Davcon is Brisbane's only dedicated supplier of Crimsafe products – the market leader in security screens known for their strength and durability. Backed by a 10-year warranty, Crimsafe screens will protect your home and family.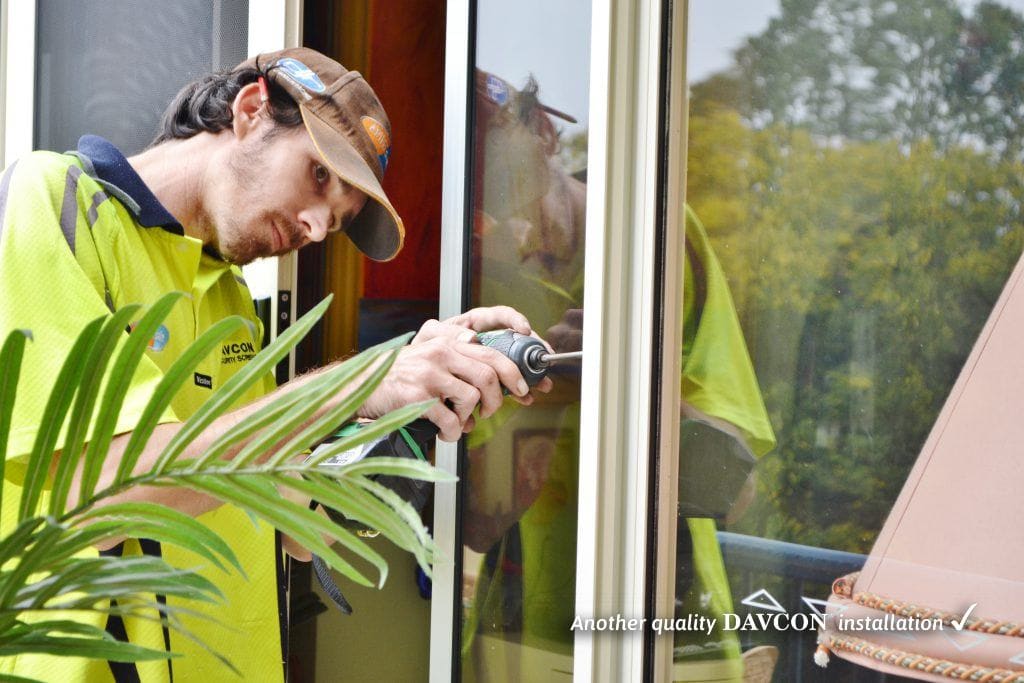 No matter where you're living, you should always protect your home as much as possible for the safety of your home and family. Read about our top tips for home security to learn more about how you can give yourself and your family peace of mind.
Are you ready to protect your family?
Davcon offer a free on-site quote for your home and can answer any questions that you may still have about Crimsafe.
Get your free quote now.