When it comes to your home, aesthetics and security can be equally as important. As a homeowner, you'll know that sometimes you need to make a choice between the two. But sometimes you don't have to.
French doors can look fantastic on your home, but are often known as a security weak point in your home. Many home-owners want to secure their french doors, but either aren't sure what security options are available, or don't want to ruin the beautiful aesthetic – which we understand! French doors can be expensive to install, so covering them up with ugly grille security screens isn't appealing.
But Crimsafe security screens are the answer you're looking for.
Other security screens can not only ruin the aesthetics and function of French doors, but many don't even provide adequate protection for your home.
Not only do Crimsafe security screens provide security that surpasses Australian Standards, they still allow you to enjoy the view through your French doors, and let light into your home. Crimsafe also keeps flies and other creepy-crawlies out, eliminating the need for additional fly screens.
Custom Made Crimsafe French Doors
Crimsafe security screens can be custom made to suit your home's style and aesthetic.
Crimsafe french door frames are available in a huge range of standard and custom powder coated colours, so you can choose exactly what you need to suit your home.
Our experienced team here at Davcon will assist you in the best solution for your french doors to complement your existing doors and to keep your home safe and stylish.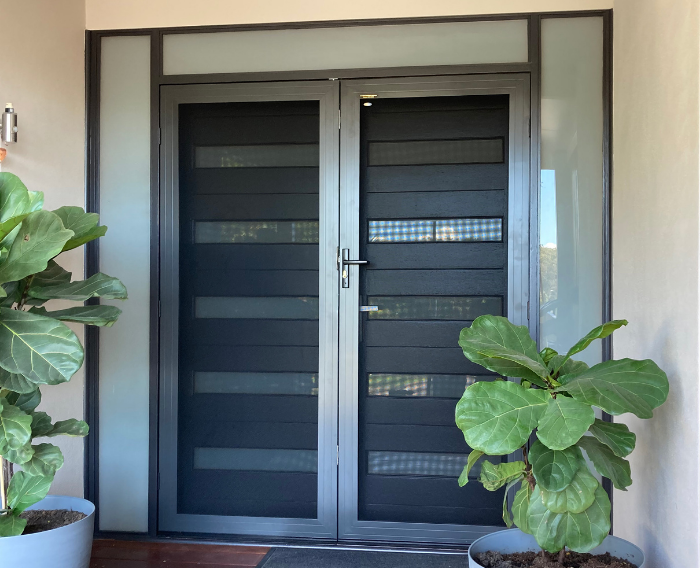 Crimsafe French Doors
Don't compromise on style or safety and get all the benefits of Crimsafe security screens on your home:
French doors are available in the Regular, Classic and Ultimate ranges so that you can make the best choice for your home.

Get the colour that matches your style with Dulux powder coating or woodgrain finishes.

Crimsafe's tensile tuff mesh lets in the breeze and light while keeping the insects out so you can get all the best bits of summer.

Crimsafe uses unique screw-clamp technology that prevents tampering and provides a vice-like grip. And with a three-point locking system, Crimsafe is jemmy-resistant, knife-resistant and can't be kicked in by burglars.