Secure your home and open your options with Crimsafe bi-fold security screen doors
Bi-fold doors are a staple in Queensland homes. They create an open and luxurious feel, can be used to create beautiful indoor-outdoor entertaining spaces and function to provide much needed airflow during the warmer months. However, these open doors do come with security concerns.
It can be confusing as a homeowner. How can I take full advantage of my bi-fold doors, whilst protecting my home, my family and my property? You may even be getting frustrated, feeling like there is no solution. This is because traditional security screen options were not possible for bi-fold doors. Their structure and function simply did not mesh with security screen technology.
Until Now!
The solution is Crimsafe bi-fold security doors. These doors are custom made to fit your home perfectly and can easily be fitted to your existing bi-fold door structure. They can also be powder coated in a wide variety of colours and realistic wood finishes to suit your needs. Additionally, they offer the same level of security as any other Crimsafe security screen. This means that your Crimsafe bi-fold security screens doors are Australia's toughest on the market.
So with your home, your family and your property protected by your new Crimsafe bi-fold security doors, here are 6 ways you can enjoy your open home.
1. Summer Breeze: In, Bugs: Out
Queenslanders definitely appreciate a good breeze, particularly in the warmer months when airflow through the home is crucial. Bi-fold doors are an excellent way to maximise this, however those warmer months also bring some pesky bugs. Did you know 80% of midges can't even get through Crimsafe? Crimsafe security screens offer your home all the advantages of open doors with the peace of mind of closed doors. Letting air in and keeping pesky intruders out! And we're not just referring to bugs. In fact, Crimsafe security screens are so secure, you can even enjoy that cool summer breeze throughout your home all night long.
2. Energy Efficient
As well as intruders and bugs, Crimsafe security screens block harmful UV rays and solar heat making them extremely energy efficient. There is nothing worse than walking into a hot house after a long day at work or dreading opening a summer power bill after running the air-con 24/7. So with Crimsafe security screens installed on your bi-fold doors you can enjoy your cooler home. Additionally, you will also benefit from reduced UV damage to your indoor flooring and furnishings as well as lower risks of skin cancers! Just because you are inside does not mean you are protected, however with Crimsafe it does!
3. Visibility
Are you proud of your garden? Do you enjoy looking at your flower beds, a particular tree or a favourite sculpture? Maybe you even have a peaceful water feature or some native birds you enjoy being able to hear. With Crimsafe bi-fold security doors, these experiences can all be carried through and enjoyed from the inside of your home. They have fantastic visibility, which won't obstruct your views and will not block any of your favourite sounds from entering your home. Carry out your life indoors, whilst enjoying what life has to offer outdoors.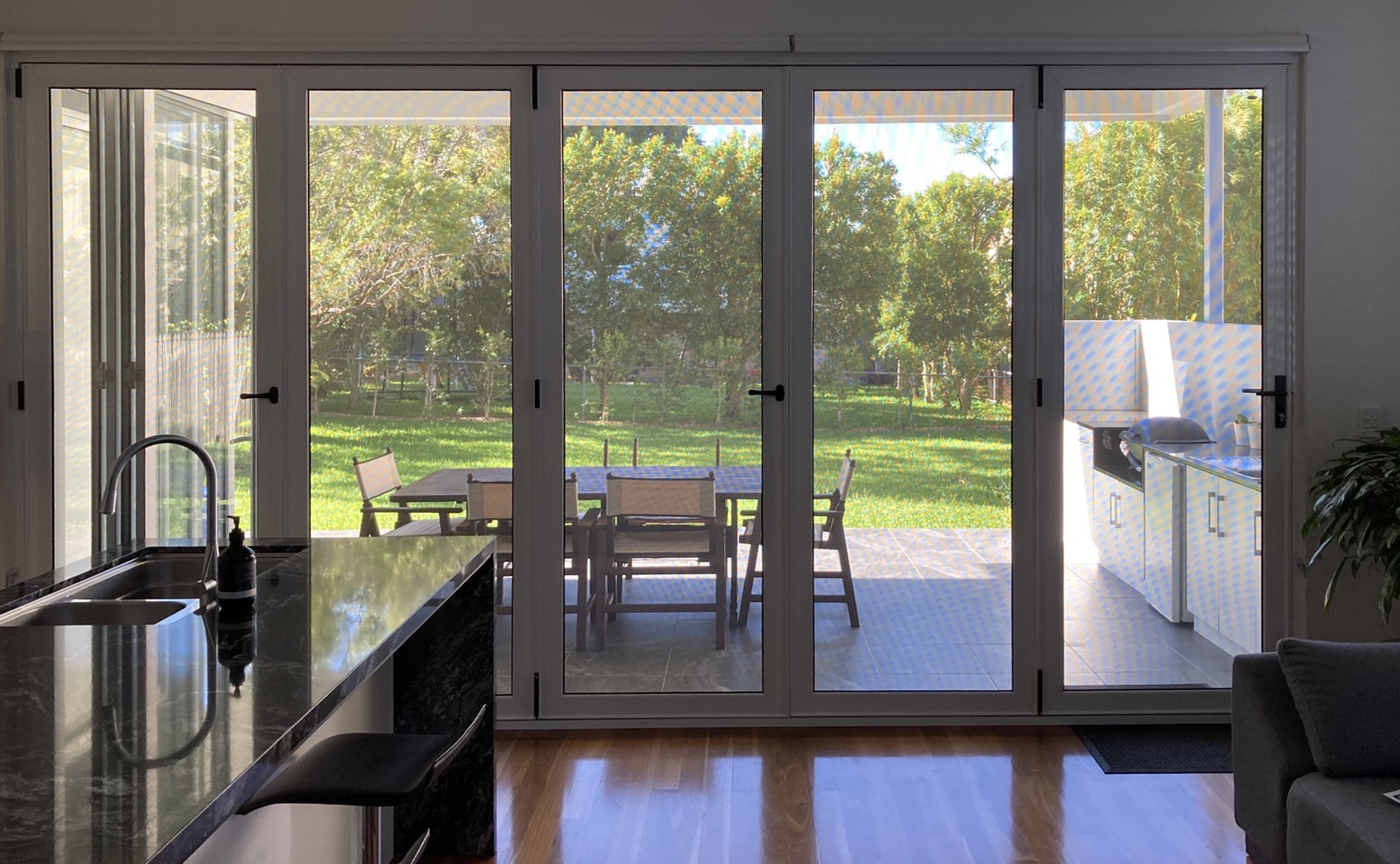 4. Visibility for Safety
We can't be in more than one place at any one time and sometimes there are just too many things to do in the day. Crimsafe bi-fold security doors allow you to continue being busy inside whilst still being able to keep an eye and ear on your children, or even pets outside. If something were to happen, these doors will not obstruct your vision or hearing, enabling you to ensure, even if from afar, that your loved ones and pets are safe outside.
5. Expand your living and entertainment spaces
Queenslanders love to entertain and with the warmer months rolling in there is nothing like a summer BBQ at home. Whether it is just the family, extended family and friends or a big celebration, there is nothing like opening up your entertainment and living spaces with the outdoors. Crimsafe bi-fold security doors create a luxurious statement in this way. They enable everyone to enjoy their own space, whilst still being part of the action. Kids playing on the grass, someone at the BBQ, others helping in the kitchen or even sitting back inside watching the game, they create an inclusive social space.
6. Safe and Secure
There is no better way to enjoy your bi-fold doors, other than knowing that they are protecting your home, your family and your property. Installing Crimsafe security screens gives you this peace of mind. Any open space is prone to pesky intruders, from bugs to burglars, however these intruders can be prevented. Without feeling like you are living behind closed doors, Crimsafe bi-fold security doors allow you to enjoy your safety and your open space.
Bi-fold doors are a statement. They are a luxury addition to your home that creates a feeling of openness, visibility and belonging to the outside world. With Crimsafe bi-fold doors, you get to enjoy all of the benefits of open doors and windows, whilst also enjoying the benefits of some serious security and bonus functionality.
Get Your Free Measure & Quote
To improve the value of your home with Crimsafe security screens, give Davcon a call today or book a quote online.