Congratulations! You've made the decision to install Crimsafe security screens. You've made a good investment for your home and opted for the best security products on the market – stringent safety standards tests have proved that Crimsafe can withstand massive impacts. It's a wonderful feeling leaving your home in the morning and going to bed at night knowing that you, your family and your hard-earned possessions are as safe and secure as possible, thanks to superior Crimsafe technology.
The next step is getting your Crimsafe security screens installed – we are often asked what you need to do to prepare your home. And the good news is…it's not much! Our installers are fully qualified and have years of experience under their belts. But there are a few things to keep in mind before your installation.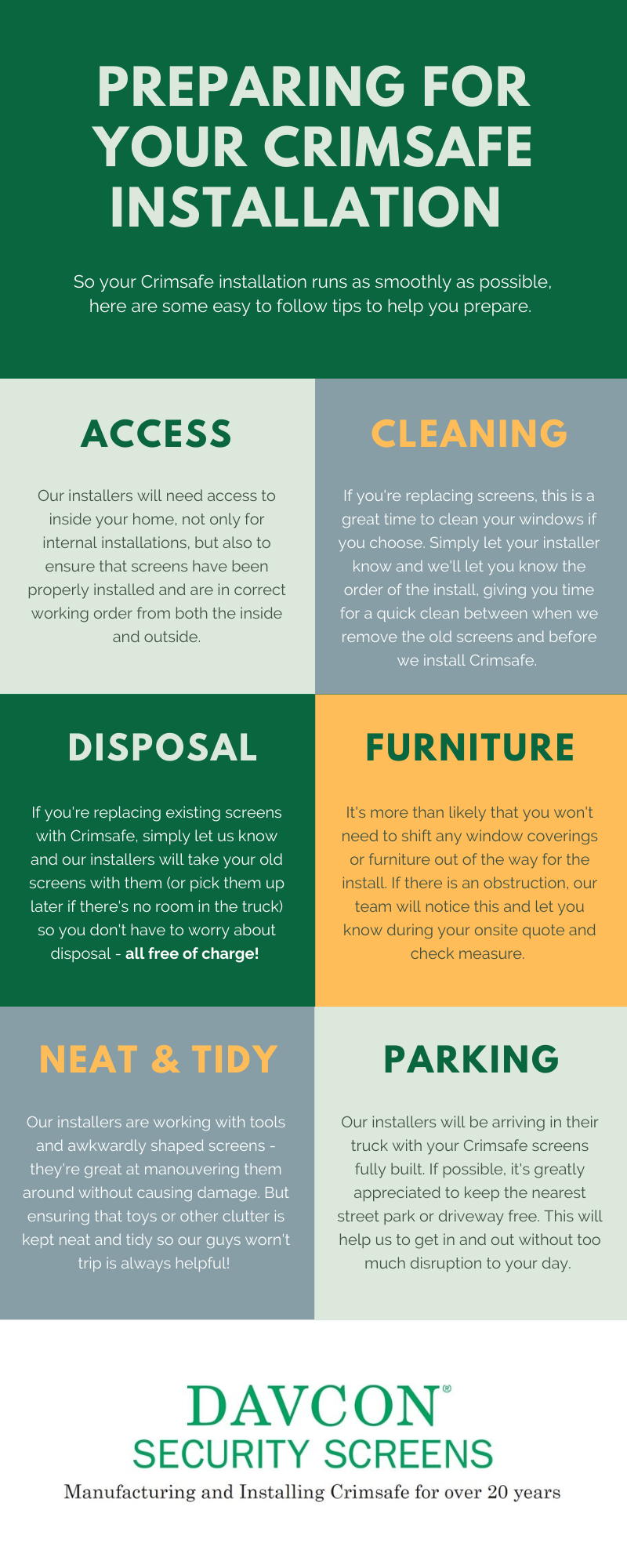 Access
Our installers will need access to the inside of your home, not only for internal installation, but also to ensure that screens have been properly installed and are in correct working order from both inside and outside.
If you need to head to work, or even if we're going to be there all day, you don't need to be home for the entire installation. It's common for some owners to let in our installers and then heading off to work. Our installers will lock up when they're done and leave your keys in the best location for you.
Cleaning
If you're replacing screens, this is the perfect time to get your windows looking their best. Simply let your installer know you'd like to clean your windows between the removal of your old screens and installation of your Crimsafe. They'll let you know the order they'll be installing, which gives you time for a quick clean after the old screens have been removed.
Disposal
Many of our customers are replacing old screens with Crimsafe security screens. If you're doing this, let us know and we'll arrange to correctly dispose of your old screens. Our installers will either take your old screens with them when they finish up, or if their trucks are too full, will return at another time to pick them up.
This is a service that Davcon provide completely free of charge to make your life a little easier.
Furniture
Most of our customers don't need to shift any furniture or window coverings, such as curtains and blinds, out of the way for the installation. Our security and sales team will know how much room the installers need – so when you're getting your check measure is completed, our team will let you know on the spot, anything that needs to be moved before the installation takes place.
Neat & Tidy
There's nothing we appreciate more than working in an area that's neat and tidy. Our team are carrying tools and your Crimsafe security screens, which can often be quite large. So if your property is tidy, our installers won't be at risk of tripping and causing damage or injury while they're working.
Parking
Our installers will be arriving in their trucks with your Crimsafe screens fully built. If possible, keeping the nearest street park or the driveway free, this will help us to get in and out without too much disruption to your day.
Enjoy!
The final step, once our installation team has completed the job, is for you to wander through your home and marvel at your new security windows and doors. Slide your windows and doors as wide as they can open and let natural light and fresh air circulate through your home. Your view to your garden will be crisp and clear and, whether from flies, snakes and beetles, opportunistic thieves or hardened burglars – you, your family and your possessions are now safe, secure and protected by Davcon and Crimsafe!
Should you wish to discuss anything else before we install your security screens, or if you don't yet have Crimsafe in your home and would like a free quotation, get in touch with one of Davcon's security consultants on

07 3875 2326

.